THE ARGC-2400 GYRO STABILIZED POSITONER'S rugged design was developed to fulfill the high stability requirements of high magnification camera (i.e. small FOV) for shipborne application. It is designed to rapidly and accurately position payloads weighing up to 60 kilograms. It operates in all types of conditions for land & maritime applications, while offering a ▒ 200 μrad LOSS (line-of-sight stabilization). It is custom-made for the ARGC-2400 system with fittings and vibration free hardware that will suit your application's high standards. The positioner is also available with an optional side mounted braket for an additional payload.

Designed to meet the growing demand of cost-effective, highly accurate, high performance Range Gated cameras, the ARGC-2400 gyro stabilized positioner combines an excellent payload-to-weight ratio, accuracy, stiffness and speed.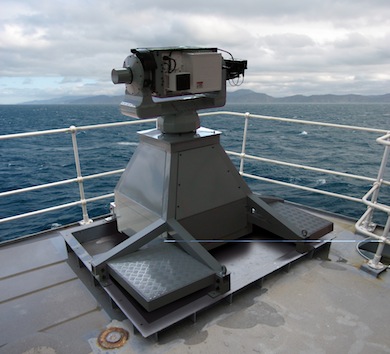 Positioner with suggeted mounting plinth


The support structure/mounting plinth design must take into account the full mass of the above decks equipment under shock and vibration conditions. This structure should be fully connected into the main ships deck structure such that the overall lowest natural frequency of the ARGC-2400 Gyro stabilized positioner should have a minimum mass ratio of 5:1 (the support plinth and support deck structure shall have minimum mass of 750ákg).

This Gyro stabilized positioner is configured Elevation over Azimuth. Both axes use direct drive large diameter DC brushless servomotors. The structure is cast and machined from aluminium alloy for strength and integrity. Large diameter thin section angular contact bearings are used for each axis for stiffness with low friction. The elevation axis is fitted with mechanical rubber bump stops. The azimuth axis has a central hole for cabling and fitment of a range of standard or special sliprings to suit payload configurations.
Each axis is fitted with rotary optical encoders providing positional information for motor commutation as well as encoder positional data for the control system.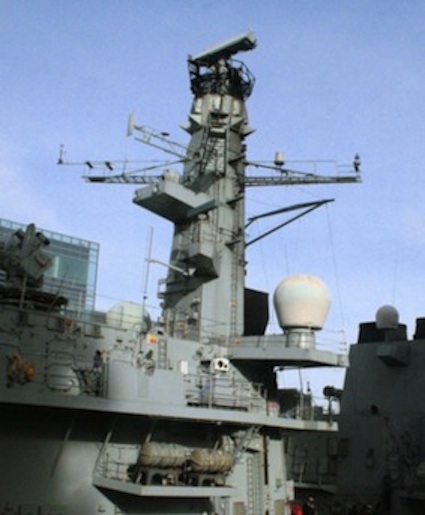 ARGC-2400 mounted on a Gyro stabilized platform deployed on a frigate.


The operator control console (OCC) is designed for naval applications where space is a premium and conventional desk style consoles cannot fit. The OCC is floor mounted with a compact footprint and slim profile. The operator can stand or sit on a tall stool/chair if available. The OCC has locations for fitment of various control equipment around the lower section of the pedestal.
17" VGA Colour screen with discreet function buttons in border
Red light night mode
Aluminium foot mounted pedestal
Solid hand grip with thumb joystick and dual function buttons
Waterproof keyboard and mouse
Local equipment PSU
Location fitting for 1 off 3U 19" rack (side mounting)
Location for 2 additional electronic box type enclosures
Lower equipment protective cover
TV Screen sun shield
Footprint 475 mm wide x 600 mm deep
Height: 1.624 m



Shown above, the naval OCC with a built-in red LED dimmable desktop illumination. This deck equipment consists of a central floor mounted pedestal with 17" monitor and control joystick. An adjustable shelf provides support for the keyboard.