Obzerv Technologies Inc. is a specialized firm which designs, develops and manufactures high-end night-vision cameras for mid-range and long-range surveillance applications based on active imaging. Thanks to its range-gating capability and unique laser illuminator technology, Obzerv's cameras are operating in total darkness and degraded weather conditions while offering real time video images.
World Leader
Over the years, Obzerv's cameras have been installed and integrated with diverse surveillance systems around the world. To achieve this success, we worked closely with our customers to ensure that the best and most efficient integrated solution is delivered.
Mission
Provide our world-wide customers with a decisive operational advantage through the superior performance of our surveillance products based on active imaging technology."
A Word from the Founders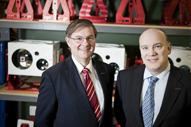 Mr Louis Demers, President (left).
Mr Deni Bonnier, Senior Vice-President (right).
At Obzerv, ensuring end-user's satisfaction through the building of winning relationships with our integrators and customers is of the utmost importance to us. We strongly stand by this phi- losophy ever since the inception of the company and this is what has propelled us at the forefront of the high-performance range-gated cameras suppliers on a worldwide level. As we look ahead, we are confident that our cameras will continue to deliver quality solutions and high value to our customers, while continuing to strengthen our global presence in the industry".
Board of Directors
Louis Demers, eng., President, Director
Deni Bonnier, eng., Senior Vice-President, Director